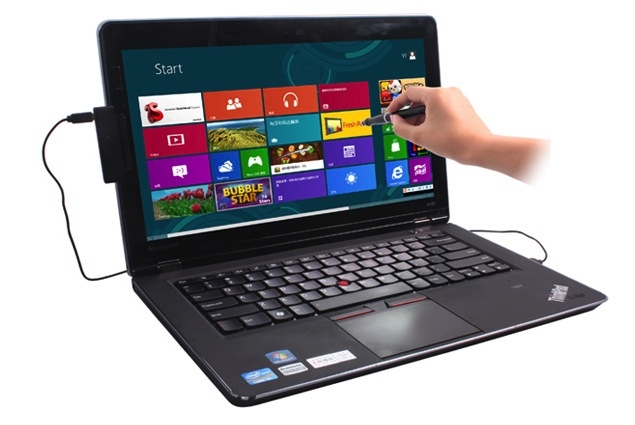 Portronics Handmate Windows 8 Pen is one of those nifty little devices that seem too good to be true when you first read about them. It promises to turn any Windows 8 laptop into a touchscreen device, letting you experience the joys of owning one of those 'hybrid' devices at fraction of the cost. But does it work? Let's find out.
Setting up the Handmate Windows 8 Pen is simple - just connect it to any available USB port on your Windows 8 laptop and fix the receiving unit on one of the edges of the screen, about halfway from the top. Go to Control Panel to calibrate the screen (the device comes with instructions on where exactly to go) and a barely a minute later, you are good to go. We hooked up the device to a HP Windows 8 laptop, but any standard Windows 8 machine should do.
Put in the batteries into the pen-shaped stylus and start operating your Windows 8 device by touching your laptop screen - swipe around the Windows 8 home screen, touch to start applications, swipe from edge to bring up the system menu and more, just like your device always had touch. The device really comes into its own when playing games like Cut The Rope or when you want to put finishing touches to your masterpiece in Paint.
However, there's more to touch than just fun and games - combine the Handmate Windows 8 Pen with Microsoft Office's Inking capabilities (found under the Review tab) and you have perhaps the fastest way to give feedback on Office documents while on the move.
A word of caution though, if you're used to super sensitive touch experience of the iPad and the likes, the Handmate Windows 8 Pen will take some getting used to. The stylus requires slightly heavier pressing than you'd probably expect, but not the kind that'll wear you down. It's a small adjustment to make, and one you'll likely make swiftly.
The Handmate Windows 8 Pen comes bundled with spare stylus and batteries that power the stylus. Portronics claims 500 hours of battery life given working/ standby ratio of 1:9. The sensors on the Handmate Windows 8 Pen use a combination of infrared and ultrasound technologies and work on screens sized 16-inches and below, which means it is good to use with laptops and even desktop monitors of that size. A newer generation product that will work with screen sizes of up to 25-inches is expected soon.
All in all, Handmate Windows 8 Pen offers a decent option for those looking to add a dash of touch to their Windows 8 experience. At Rs. 4,999 it's a not-so-expensive option to see if touch fits in your workflow before you take the plunge and buy an expensive native touchscreen device.