What could Apple do for TV that hasn't been done already? Put a ring on it.
A bit wierd, but Apple is planning to introduce a ring, which could be worn on your finger, to act as
a remote control for the company's oft-rumored iTV television.
The idea flies in the face of gesture and motion-control technology from competitors who don't require wearing anything to make it work. The other issue is that the ring would have to be adjustable somehow, since it's hard to imagine a one-size-fits-all design that would be comfortable for the masses. Naturally, this ring probably won't cater to people like Beyonce, who had bigger ideas when belting out "put a ring on it". Oh, and it's unlikely that the Mandarin will be wearing one of these in the upcoming Iron Man 3 movie. He likes to wear 10 rings, but probably doesn't need to control his TV with any of them.
Brian White, an analyst with Topeka Capital, suggested this was happening in a note to investors after taking a trip to component suppliers. The reputed "iRing" is apparently in the works, and would basically enable control of the iTV using motion-controlled gestures while wearing it.
He also predicted that the iTV system will come with optional
iPad
-like "mini iTV" screens for viewing TV content as well as other applications, such as home security and video conferencing. White wrote:
Essentially, we believe the "mini iTV" screens will be able to capture content from the 60-inch "iTV" across a distance of up to 200 meters, allowing a user to view "iTV" content in the kitchen, washroom, garage, bedroom, backyard, etc. We believe Apple will offer one "mini iTV" per "iTV" but package options will include up to four screens (i.e., one screen is part of the standard package and pay extra for each additional).
According to White, his Asian sources tell him that the iTV bundle will ship by the end of this year, and that the 60-inch version would run from $1,500 to $2,500, depending upon the accessories that ship with it.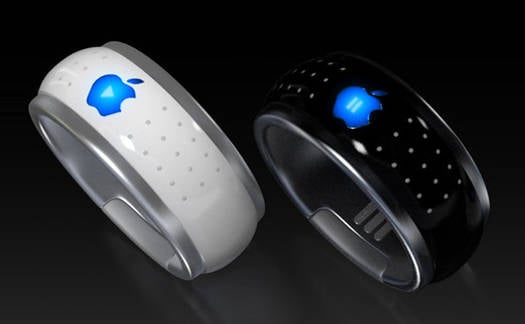 This 'iRing' iPod was
envisioned
by designer Victor Soto in 2007
Apple has been silent on any plans for a TV product. "There's a lot we can contribute in this space, so we can continue to pull the string and see where it leads us,"
Apple CEO Tim Cook said
during the company's first-quarter earnings call in January.
But whether the iRing-controlled iTV show up or not in year 2013, this year's holiday shopping season remains to be seen – some observers are more than mildly

scornful

– but one does wonder whether the legions of dedicated Apple haters will raise a certain finger in salute of the concept, one likely without an iRing ensconced upon it.